Nitrogen Generator Applications in the Electronics Industry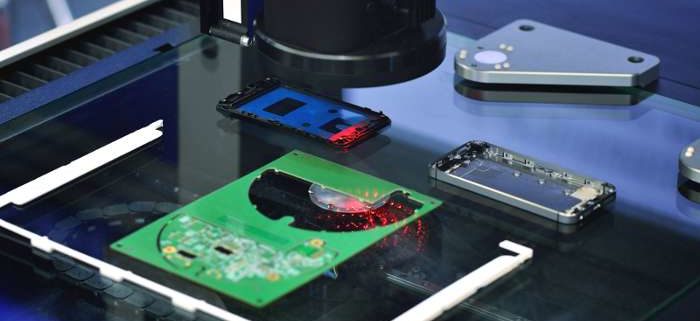 The electronics manufacturing industry is a varied field that includes everything from surface mount technology and lead-free soldering to semiconductor production. No matter what your company's primary operations entail, a nitrogen generator system can provide a number of benefits.
Pure nitrogen comes into play in many ways in the electronics world. As an inert, non-conductive gas, it is used to cut down on oxidation during assembly and electronics packaging processes. Let's take a closer look at the many benefits this gas provides to the electronics industry, and how a nitrogen generator can help you maximize them.
Lower Risk of Oxidation
The inner workings of electronic devices need to have strong solder joints to ensure quality and durability. However, when these products are being soldered, oxygen particles often form, which can cause oxidation. This is a major obstacle for manufacturers, because it weakens the joints and leads to product defects and a poorer quality device, overall.
However, you can avoid this problem and ensure a better end-product by using nitrogen generators for electronics manufacturing that create pure gas. Nitrogen reduces the risk of oxidation by allowing for proper wetting between the solder and the devices it is being used on. This creates stronger solder joints and a longer-lasting, higher quality product.
Dross Reduction
Due to risks involved with tin-lead solder, many companies choose to use lead-free solder as an alternative. This choice, unfortunately, comes with a few disadvantages. First, the cost of the lead-free product is significantly higher. Additionally, the solder has a higher melting point, which creates dross, a waste product that forms on the surface of the molten solder. Dross needs to be cleaned regularly to ensure quality, which adds to the overall expense of using lead-free solder.
Nitrogen generators can reduce the production of soldering dross by more than 50 percent. This not only improves the quality of the product itself but also cuts down on the time that employees spend cleaning up the dross and waste from the solder.
Today, many manufacturing companies are shifting to lead-free solder to provide their customers with safer products. Therefore, nitrogen is quickly becoming an essential material for electronics production.
Less Surface Tension
Nitrogen use in the electronics industry can also improve manufacturer productivity and create an environment that is more conducive to the process. Specifically, the effect of nitrogen gas reduces the surface tension on the solder and allows it to break cleanly from the soldering site. This results in a more efficient manufacturing operation.
Atmospheric Consistency
There are very specific environmental conditions, such as the temperature and humidity, that are necessary for electronics manufacturing. Because nitrogen is an inert gas, it provides more consistent atmosphere in the workplace. Nitrogen keeps the atmosphere steady throughout the day, reducing the chance of errors caused by oxidation and excess moisture.
Higher Quality Products & Greater Savings
By using nitrogen gas, manufacturers can create higher quality products, which helps to build a positive reputation among consumers. From stronger solder joints to more consistent atmospheric conditions and less waste cleanup, the value of using this gas is clear. However, if you want to maximize the benefits of nitrogen use, it's best to invest in an on-site nitrogen generator for the electronics industry.
When businesses switch to nitrogen generation, they eliminate the costs of nitrogen delivery services. Additionally, they no longer have to wait for deliveries to arrive and can have access to the gas at all times. While nitrogen generators often come with a higher price tag, their return on investment is exceptional, with many systems paying for themselves in a matter of months. Plus, once a generator is purchased, there are very few maintenance costs, so you can reduce your overhead significantly.
Make the Switch to Nitrogen Generation Today
If you would like to lower your operational costs and increase the quality of your products, now is the time to invest in an n2 generator for electronics manufacturing. On Site Gas offers a variety of top-of-the-line PSA and membrane generators that can help your company increase your productivity and revenue. If you prefer to continue using nitrogen cylinders, we also offer turn-key nitrogen cylinder filling stations that allow you to create and bottle your own gas.
For more information about using nitrogen generation in electronics manufacturing, contact us today! Our team is happy to answer your questions and help you choose the perfect system for your business.
https://www.onsitegas.com/wp-content/uploads/2019/02/cP2PeHQ7.jpeg
466
700
Onsite Gas
https://www.onsitegas.com/wp-content/uploads/2020/07/onsite-logo3-300x71.png
Onsite Gas
2020-06-02 14:29:19
2020-06-02 14:29:19
Nitrogen Generator Applications in the Electronics Industry