Oxygen Filling Station is an Essential for Healthcare Facilities.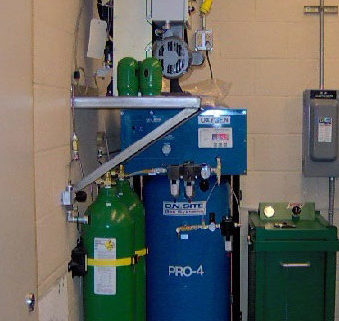 On Site Gas Systems is proud to provide quality products and service for Healthcare Facilities in need of replenishing their oxygen cylinders. Because oxygen cylinders can be refilled rather than purchasing pre-filled (from a supplier) cylinders, having a filling station at your Healthcare Facility reduces costs.
With high-pressure booster pumps, your facility can refill several oxygen cylinders without concern for running out, or the specter of taking too long to get filled cylinders to patients who need them most. That can provide peace of mind, and can help patients literally breathe easier when it comes to their health and medical conditions.
Focus on Facilities
We provide filling for Healthcare Facilities only. On Site Gas Systems does not provide personal oxygen filling.
If you operate a Healthcare Facility and need an oxygen filling station, On Site Gas Systems is the company to call. Having a reliable oxygen filling station is vital for Healthcare Facilities, as patients may need oxygen at any given time. A Healthcare Facility's oxygen needs may vary, and having an on-site oxygen cylinder filling station allows the facility to produce as much oxygen as needed when it is most important. On Site Gas Systems knows it is critical that there is always enough oxygen for patient safety and comfort. Rather than worrying about your facility running low, you can feel at ease knowing your filling station will be ready when your patients need it.
Why Choose On Site Gas Systems?
In business since 1987 we have been providing oxygen filling stations to ambulance services, hospitals, nursing homes and disaster management services, and On Site Gas Systems provides experience and expertise.
We always look for new and better ways to help Healthcare Facilities with their oxygen needs. The systems we design and build can and do save lives, and they provide cost-effective solutions to enterprises likes yours, so you can care for your patients more effectively.
Are you ready to set up a filling station for your care facility? Contact us today, and let On Site work with you to ensure every patient's oxygen needs are met.
https://www.onsitegas.com/wp-content/uploads/2017/02/pogs-va-086-e1487793920310.jpg
556
339
Onsite Gas
https://www.onsitegas.com/wp-content/uploads/2020/07/onsite-logo3-300x71.png
Onsite Gas
2017-02-28 07:49:45
2017-02-28 07:49:45
Oxygen Filling Station is an Essential for Healthcare Facilities.