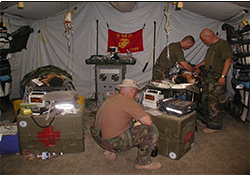 The men and women of the military risk their lives every day, and it's important to have the medical supplies on-hand to save them. Unfortunately, many of the locations where emergency medical treatment is required are in a brutal environment far away from a hospital. That's why it is crucial to have portable oxygen generator systems wherever military personnel are located.
Portable Oxygen Generator Systems at Work
Our USP 93% portable oxygen generator systems were built with a war zone in mind. They are extremely durable, easily moveable oxygen systems that can create medical-grade oxygen when needed, with no limits on quantity. Our portable oxygen generator systems are currently in use at several field hospitals in Afghanistan and Iraq, and they can help the military as a whole in many ways:
First responders can use a portable oxygen generator system to fill cylinders up to 2200 PSIG. It can be used around the clock to keep the cylinders full, ensuring everyone has the oxygen they need to survive.
The medical-grade air produced by our portable oxygen generator systems can also be directly connected to a patient in a field hospital.
With our POGS 33 oxygen generator, military field hospitals can generate medical-grade oxygen and medical-grade air to run anesthesia units and ventilators.
Why Use Portable Oxygen from On Site Gas Systems
It is impossible for the military to predict when they are going to need medical-grade oxygen, and how much they are going to use. With our portable oxygen generator systems on hand, they don't have to. We take great pride is manufacturing high-quality, battle-tested portable oxygen generator systems that are:
Reliable. This is crucial. The military needs to know they will have oxygen when it is required, and since our portable oxygen generator systems allow them to produce their own, they never have to worry. And with the built-in backup system, a power outage won't even stand in the way of saving lives.
Transportable. As mentioned, in many instances, our portable oxygen generator systems are required in situations that are not easy to get to, so when we say portable, we mean it. Only four people are required to carry the portable oxygen generator system to its destination, and once it is setup, no additional heavy or oversized equipment is needed.
Safe. Our portable oxygen generator systems are an FDA-approved Class II medical device, so they will always deliver the quality of oxygen that is required in lifesaving situations.
On Site Gas Systems is known for its reliable, innovative equipment, and our portable oxygen generator systems are no exception. The military can depend on them to save lives even under the most extreme circumstances.
https://www.onsitegas.com/wp-content/uploads/2015/11/rsz_1n.png
175
250
Onsite Gas
https://www.onsitegas.com/wp-content/uploads/2020/07/onsite-logo3-300x71.png
Onsite Gas
2015-11-25 06:01:19
2015-11-25 06:01:19
Portable Oxygen Generator Systems Help Save Military Lives