What's the Deal with This "Nitro Cold Brew" all the Coffee Drinkers Love?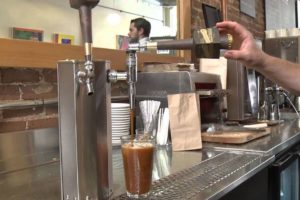 When you think about it, nitro cold brews were inevitable. Amid the current passion over craft beers — and in a world full of creative brew-masters — it makes sense to apply similar principles to another popular beverage staple. Cold brewed, stored in a keg and infused with nitrogen (hence the "nitro"), the coffee connoisseur website Dr. Axe notes how closely nitro cold brew mimics the experience of drinking a cold beer straight from the tap.
Imagine your favorite cup of joe, chilled, frothy and brimming with soft, velvety carbonation. Each expertly poured serving features a mug full of icy cold coffee with a head much like that of the world-famous Guinness Stout. With Guinness having developed the nitro cold brewing process, baristas strive to ensure each pour foams like that of the masters.
Why A Nitro Cold Brew is Essential to the Growth of your Small Coffee Shop
Similar to craft beer drinkers, coffee aficionados tend to follow trends, and are generally eager to experience adventures led by teams at their favorite small coffee shop. If you are looking for ways to help promote growth for your own small coffee shop, nitro cold brewing is essential. This science-based brewing process may seem complex, but your willingness to take the leap is likely to pay off.
There are plenty of additional reasons that nitro cold brew is essential to the growth of your small coffee shop, including the following:
You can stay competitive in your market. The popularity of the velvety and bubbly goodness of nitro coffee is catching on, and more coffee shops are expanding their repertoire to incorporate nitro capabilities. You do not want to start losing customers to neighborhood coffee sellers and have to attract your customers all over again. Men's Journal states that nitro brew coffee is the best thing to happen to coffee since ice, so it appears that nitro coffee is likely here to stay for the long haul.
You offer something that home brew machines cannot. With so many personal coffee brewers and accompanying pods that bring coffee shop flavor to coffee lovers' homes, you can offer an unusual treat they can't make at home with a nitro brew.
Nitro brewed coffee features more caffeine and zero sugar, milk, or alcohol. With 30 percent more caffeine than regular coffee, and free of fats and sugars, nitro coffee may just be the Holy Grail for die hard coffee drinkers.
The flavor is all coffee without any bitterness. Business Insider cites the running theory that nitro-infusion slows down degradation of coffee's compounds, which bypasses the usual "rust effect" that gives coffee a bitter and sour taste. Nitro brewing helps slow oxidation to extend shelf life, making each frothy mug taste fresher and smoother than traditional brews.
Taking the plunge into nitro brewing has the potential to offer creative rewards for your small coffee shop and staff, as well as keeping your loyal customers lining up at your door each morning. On Site Gas Systems offers our new Nitro-Blast System so you can offer Nitro-coffee in your coffee shop.
The team at On Site Gas understands the challenges and extensive rewards involved with the nitro-infusion process, so when you are ready to start your own nitro brewing adventures in your small coffee shop, please contact us so we can help.
https://www.onsitegas.com/wp-content/uploads/2017/02/coffee-tap_0_0.jpg
613
920
Onsite Gas
https://www.onsitegas.com/wp-content/uploads/2020/07/onsite-logo3-300x71.png
Onsite Gas
2017-02-13 06:04:43
2017-02-13 06:04:43
What's the Deal with This "Nitro Cold Brew" all the Coffee Drinkers Love?